When most people think about making videos they think that they're going to need a lot of fancy equipment and that it's going to be expensive.  And this is where many folks get hung up. It just seems all too daunting to figure out what equipment to buy and then learn how to use all that gear.
It doesn't have to be that way.
In the past 15 years I've made a lot of videos and i have fancy cameras and lots of gear. But these days I shoot everything on my iphone and I use the four basic tools that I'm sharing with you in this guide. The total budget, (assuming you already have a smartphone), is just $82.88!!
That's it.
And it all fits easily in my messenger bag so I'm ready to shoot wherever I go.
Here's my keep-it-simple video gear list to get you shooting awesome video without spending a ton of money:
1. Tripod + Smartphone Mount – Cost: $13.99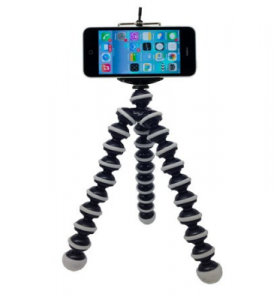 This bendy little tripod can attach onto almost anything (the back of a swivel office chair is especially useful) It's super compact so You can just throw it in your bag with your phone and keep it with you at all times.
2. Movo Lavalier Microphone – Cost: $39.95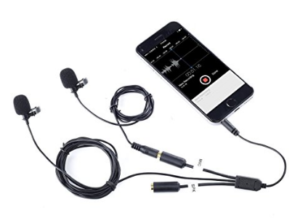 Using a good external microphone is essential to creating good video. Your sound is as important as your image! This simple lav microphone plugs right into your phone and lets you get great sound when you're positioned away from your camera. The kit comes with two microphones which will allow you to do interviews with a guest.  It even comes with a separate plugin for earbuds so you can monitor your sound and make sure the audio is working.
3. Extension Cord – Cost $12.95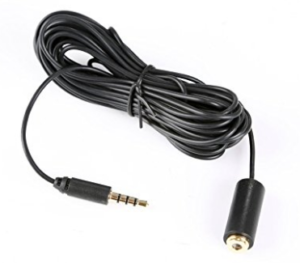 You can attach this cord between your microphone and your smartphone which will let you (and your interview guest) sit well away from your phone without feeling crowded. This is really helpful if you want to move at all while you're shooting and really gives you plenty of freedom.
4. Wide Angle Lens – Cost $15.99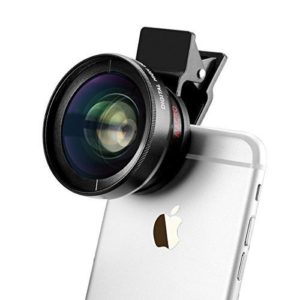 This wide angle lens is super helpful when you're shooting in a tight space and you need to show more, or when you're interviewing a guest and you want to easily get the two of you in the same shot.  You just clip the lens right onto your smartphone and it will give you a really wide angle shot.
When you're doing an interview, the lens gives such a wide view so that you can still be an arms-length from your phone, and hold it selfie-style, but now you'll have lots of space in the shot for both you and your guest to talk to each other.
If you're walking around with your phone and you're wanting to give your viewers a tour of what's going on around you, the wide angle lens is a great tool for showing everything in your background. It's particularly good for indoor spaces because it can help show an entire room.
I made a video showing how to use this wide angle lens for doing interviews right here >
And that's it! Total Budget: $82.88 (*recent prices on Amazon)
With these four tools – plus your smart phone – you're ready to shoot any time & anywhere – and all for less than $100!
Once you get yourself equipped with these simple tools, join my FREE Videomaking Mastermind group on Facebook where you can post your smartphone videos, see what others are posting and give and receive positive feedback.
https://www.facebook.com/groups/videomakingmastermind/
http://awesomevideomakers.com/wp-content/uploads/2017/04/video-story.jpg
1000
1500
Brad Powell
http://awesomevideomakers.com/wp-content/uploads/2017/09/Awesome-Video-Makers_opt-logo.png
Brad Powell
2017-06-27 19:12:56
2017-08-08 18:26:05
The 4 Super Cheap Tools I Use to Create All My Videos (Total Budget $82.88)