Like this video? If you want to start really loving the way you show up on camera then join the free masterclass I've just created:
"5 Biggest Mistakes People Make When They Go Live That Keep Them From Getting Clients"
Join the free masterclass right here – it's FREE!
https://www.crowdcast.io/e/new-masterclass
Hate the way you look on video? How do you get comfortable in front of the camera? How do you learn to love the way you show up doing live video?
Today I want to talk about the number one thing I'm hearing most often from people that's really holding them back from making video and especially from making live video. People are telling me again and again that they really just don't like the way they look on camera, or they don't like the way they sound on camera. They say, "Well I made a video and I looked at myself and you know what? I just don't think I look that great."
What I'm going to address is how do you learn to love the way you show up when you're in front of the camera?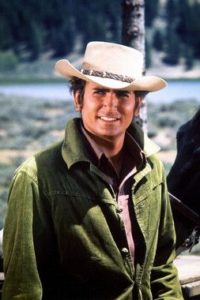 When I was a little kid I was living in a house where all the mirrors all over the house were way up high, way above my head. By age 3 or age 4 I didn't actually know what I looked like. At the time I had this really positive self image. In fact my hero was the western TV star Michael Landon. You probably remember Michael Landon from the show, "Little House on the Prairie." But I remember him from an earlier western that was called, "Bonanza" and he was really handsome and he was really cool and I thought he was the best thing ever. I wanted to be like him. I wanted to be Michael Landon. And I thought that I looked like Michael Landon.
One day I went into our big bathroom and I climbed up onto the rim of our clawfoot bathtub and from there I climbed up onto the sink and above the sink there was a bathroom mirror. I stood up on the sink and balanced myself and I could see myself in the mirror…
And what I saw was this little kid with a completely shaved head and this really big forehead and a really tiny, scrunched face. I did not look anything like Michael Landon and I was horrified.
I went down, with tears in my eyes and found my mother in the kitchen. She remembers this story and actually tells this story over and over. To her credit and great wisdom she took me out bought a mirror – a big nice mirror with a wooden frame – and she hung it in my bedroom at my height so that when I got up in the morning my mirror was there. When I got dressed in the morning, I could stand in front of the mirror and get dressed. And every day I would see myself and over and over in this practice of looking in the mirror and seeing myself, I got really used to who I was. In fact not only did I get used to who I was, I really fell in love with my reflection and who I was.
Honestly, I used to do stuff like dance in front of the mirror and then I would hold up a hair brush and pretend it was a microphone. And I would sing rock songs in front of the mirror. And I became a rockstar – to myself. And my reflection of me was rockstar.
This really works. Anyone can do this. I'm sure you've had some experience of looking at yourself in the mirror and feeling that self love. And if you haven't, trust me, try it. This is a life skill. With this kind of practice, you can learn to love how you show up in the mirror.
The really good news is that right now, with all of these rectangular smartphone things, we now carry a mirror in our pocket everywhere we go. And there's nothing better or easier that you can do than pull out your phone, turn on the camera, (remember to turn is sideways) and hit record. And talk to yourself. You don't have to try and broadcast anywhere, but just make a recording and then look at that recording. And then tomorrow do it again. And the next day keep on going. With this practice, the same as what I experienced growing up, you will not only get used to look and the way you show up and the way you sound, but you will learn to love the way you look and sound. You'll actually learn to love the person who your are when you're showing up.
The other good news – and this is specifically to doing live video – when you go live no one out there expects you to be perfect. They don't expect you to be a rockstar. They expect you to be yourself. And the more you show up as yourself, the more they are going to resonate with you. What happens is that you go live and people go, "I like this!" I promise you by doing this, by pulling out your phone, hitting record, going live, people will like your thing, they will comment, they will say, "You're awesome!" And what will happen is that you'll start believing it.
You'll be thinking, "Wow! People think I'm awesome."
Over time you will start feeling, "I am really doing something. I'm showing up as who I am. I'm offering people something that is valuable to them and they're appreciating it." And that's as far as you need to go. The more you do that the more you realize you are doing it.
And if you'd like to know a good place to start, I'd like to invite you to a free masterclass I've created called "5 Biggest Mistakes People Make When They Go Live That Keep Them From Getting Clients" where you'll start really loving the way you show up on camera. You can join right here – it's FREE!
https://www.crowdcast.io/e/new-masterclass
Here's to loving the way you show up and getting completely comfortable in front of the camera…
https://awesomevideomakers.com/wp-content/uploads/2017/12/hate-the-way-you-look.png
311
556
Brad Powell
https://awesomevideomakers.com/wp-content/uploads/2017/09/Awesome-Video-Makers_opt-logo.png
Brad Powell
2017-12-18 01:27:26
2018-10-04 16:52:34
Hate the way you look on video?