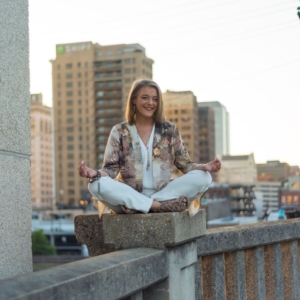 We've all seen videos people have made that didn't turn out so well. And it makes us afraid to get in front of the camera ourselves because we don't want to be that person.
I mean, what if you made a video that's just not how you want to be seen? Especially in front of all your friends on Facebook? It's enough to keep anyone from hitting the record button.
​One of my clients, Terri Ann Heiman had been thinking about making videos for awhile. But something was holding her back. She'd been feeling afraid of how she looks on video – something we can all relate to, right?​
Here's a beautiful story of how Terri overcame her video anxiety and made a couple of simple smartphone videos (to promote her podcast). It's a perfect case study because she made some of the most common mistakes that almost everyone makes when they start making videos with their phone. And with three simple tweaks – she created something really nice – and now feels inspired to do lots more.
Terri posted her first smartphone video on Facebook – and then called me out because I'd been pushing her to make smartphone videos.
"Ok Brad… I did this with you in mind. It was easier to "just do it" without the worry of what I looked like. But still fighting with that issue! I will overcome… right!"

I wrote her back saying, "Hey Terri – You look great & sound fabulous!! And most importantly enthusiastic! – I think I caught your spirit? Way to jump out there… Let me know you'd like some handy hints on how to look and sound even more fabulous."
She replied, "Yes I would for sure!"
OK, Step #1: watch the video below on 'Vertical Video Syndrome' and then just say, 'NO' to vertical video.

Step #2: Raise you phone up so that it's at the same level as your eyes. You'll look even more beautiful if you do this. You can use a large box or a stack of books or what I use is one of these little iphone tripods with bendy legs that grab onto just about anything and mount almost anywhere.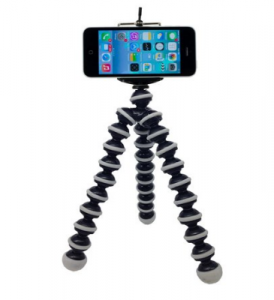 (Terri commented: "Hello ..I have one of those tripods sitting next to me! Thanks!")
Step 3: Position yourself so that your room light hits the front of your face – instead of the top of your head. Overhead lights = very harsh + deep lines."
(Terri's comments: "Hmm… that's going to take some staging! Going to play with that one!")
So I said, "You might not have to move. Just turn off the overhead light. Open up any windows and/or get a floor lamp or desk lamp with a diffuse shade and aim it at your smiling face."
Then, just after recording her podcast, Terri posted this second video, "Wow.. Brad Powell what a difference! Thanks!"
One more suggestion: Terri's phone is mounted in a way that's causing some camera shake. So, mount your phone on something that isn't connected to your movement.
Here's a third video Terri made that keep's the camera nice and steady.

BTW – I love the in-the-studio-with-Terri look…
Terri commented, "I'm noticing the likes from the video creating more attention for the podcast. Excited (did I say that?!) for my next video posting now that I know these tips!"
Terri's first video received 150 views and the second had 280 views and the third broke 300. This is a minor hit – and a simple way for Terri to grab attention for her podcast.
And how does Terri feel about this process? She writes:
"Brad and I talked about using video for visibility and he challenged me to just start doing it. Use my story. That people would be interested in seeing me. Like getting ready for my radio show with the head phones on, etc. So I took his challenge because I knew I was missing out on opportunities to get my message out. His tips helped my videos to look 100% better! So I kept trying! And he was right about visibility. And about getting more comfortable about doing them. Because I was feeling more confidant on video I was able to reach out for the TV interview too!"
"I can't believe the visibility I've gotten from my last video post (see video above). Over 500 views! Thanks for the encouragement!"
Terri's done a great job getting started with getting more comfortable and confident in front of the camera – and she's learning the first basic steps in how to produce simple videos with her smartphone. She's continued to post consistently and continues to grow her audience. Here's a recent example:
But this is just the start of how to show the transformation you bring to your clients' lives and demonstrating the solution your business offers on video.
If you'd like to have a bigger conversation about how you can use video to show the positive transformation you make with your clients, then contact me for a free Business Video Breakthrough Session >
Set up a time to talk with me we'll explore what may be keeping you from getting your message out and how you can make a giant leap forward with video.