3 simple steps to telling a good story with video
What are the first steps to telling a good story with video?
Every story has a hero, and when you're telling a story you want to make your customer the hero. But to tell a good story, your hero needs lots of hurdles to overcome. We love watching a hero triumph over some great challenge. We don't pay attention to stories that are about nice people living in a nice world doing nice things.
This is because our brains are wired to look out for trouble. It's an evolutionary thing. It kept us alive when life was full of life and death struggles (and we were all the underdogs – chased by lions and tigers and bears, oh my!)
When the hero of your story gets in trouble – we start to pay attention.
1. Make your hero the underdog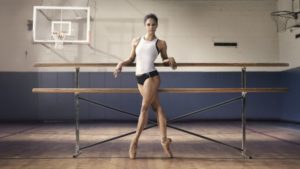 Case Study: Misty Copeland – #IwillwhatIwant
32 year-old ballerina Misty Copeland has a great underdog story. And we all love an underdog.
Copeland was relatively unknown, and as a teenager, she was told via several rejection letters that she would never be a dancer. Her body wasn't right, and at 13, she was too old.
As the video (above) opens, this is all told via a voiceover quotes from her past rejection letters.
2. Show don't tell
But then, in a wordless revelation, we are shown Copeland flying through the air – a segment reminiscent of the final scene in Billy Elliot – with Copeland proving herself before our eyes. (Despite the early rejections, she is now a soloist for the American Ballet Theatre.)
This is brilliant, and efficient, storytelling.
The opening voiceover echoed things Copeland heard as a child.
But the visuals tell the opposite story.
We see Copeland power across the stage with strength and grace,
3. Talk with your audience
The tagline, "I Will What I Want," appears at the close as a defiant call to action.
According to David Droga, founder of the Droga5 Agency, the "I Will What I Want" campaign is aimed at women who do not wait for permission, advice or affirmation from others to follow their passion.
Instead of creating a campaign about their clothing line, the video's sponsor, Under Armor, built a site at www.iwillwhatiwant.com where athletic females can join with their peers to form "the ultimate fitness community."
This is great engagement – especially for a brand that previously featured male athletes almost exclusively. They've succeeded at telling a great story. More importantly, now Under Armor has a nearly endless range of topics for an ongoing conversation with their target of athletic women – a place where women can go to share their passion and get support from their peers.
Right now the absolute best way to talk with your audience on a regular basis is through Facebook Live. You can reach your audience and engage them by sharing one story after another.
Want to learn how to tell a great story with video?
https://awesomevideomakers.com/wp-content/uploads/2017/02/MistyCopeland.jpg
338
600
Brad Powell
https://awesomevideomakers.com/wp-content/uploads/2023/04/New-Awesome-Videomakers-Logo.png
Brad Powell
2019-01-10 23:05:39
2021-10-03 09:58:53
3 simple steps to telling a good story with video