Libby Kirkpatrick is a singer-songwriter and massage therapist who recently moved from Austin to Boston. She was interested in setting up her massage therapy practice in the Cambridge area and, as someone who just moved to the area, she needed to attract an entirely new group of clients. We combined both her talents in this authentic video profile of her work.
Then we created a video profile branding plan that allowed her to combine her talents and give her an immediate entrée to likely clients in the area. Her new massage practice is in a rented treatment room housed at a yoga studio – where there are a dozen yoga instructors teaching classes to a few hundred students each month.
To introduce herself to the community she offered to play and sing for Savasana at the end of yoga classes. (Savasana is the last pose done for every class in which students lay on the floor in a resting meditation). Because the yoga teachers where she practices also teach at several other studios in the Cambridge area – she also offered to sing at the same teachers' classes at their other locations in Cambridge.
With this plan, in just a few weeks, she was be able to introduce herself to literally hundreds of local yoga students – her perfect target population as folks likely to be interested in a massage therapy session. Then she invited them in for a free assessment session – and followed up with a multi-session package offer. Anyone interested could visit her site and schedule a time for their free session online. This was a very simple-to-get-started strategy that gave Libby high visibility, and meaningful connection, with a group of her most likely clients.
Interested in devising a plan for how you can introduce yourself and share your story to a raft of prospective new clients in your neighborhood?
I've developed Video Power Strategy™, to help entrepreneurs (like you) who are frustrated from spending too much of their time chasing after new clients. I'll help you craft the story of the difference you make in the lives of your customers so that you'll attract a constant stream of new clients for your business and then I'll help you create a video profile & develop a simple plan to engage your natural audience and grow your business.
Learn more about Video Power Strategy™ >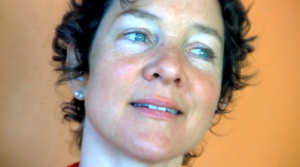 "Massage is a very grounding experience for me. I love to give massage. There's an expression that if you give a massage, you get a massage and I have that experience.
One of the things that I would say is my specialty is the the concept of wholism. Somebody might come in with a specific incident that happened, in their neck or their shoulders, and they find as they come off the table that they have a new awareness throughout their body – maybe it's more mobility in their hips or ease in their being.
So, giving massages is a privilege for me to work with another person who's entrusted themselves to me. It's an honor – and I take it very seriously."
http://awesomevideomakers.com/wp-content/uploads/2017/05/libby-kirkpatrick.png
781
1402
Brad Powell
http://awesomevideomakers.com/wp-content/uploads/2017/04/Awesome-Video-Makers.png
Brad Powell
2016-12-15 23:33:45
2017-05-01 23:56:36
4 steps to create an outstanding video profile that connects